New Young Blood
Reviewed for Drive and Stay Alive by Eddie Wren, February 2004
With the advent of the latest generation S40, Volvo are hoping to further penetrate the young adults market here in the USA and this car may be precisely what is needed.
At the time of writing this review, the new 2004-5 S40 is not yet available in the USA, but one T5 is circulating the dealerships in the north eastern states and we got the opportunity to drive it while it was with the Auto Place, in Western New York.
All T5/T6 Volvos are the turbocharged versions of their respective models so ours came with skirts, spoilers, and some rather nice 18″ wheels and low-profile tires. It certainly "looked the business."
All panel-gaps on the bodywork appeared totally consistent and felt perfectly aligned when a finger was run along them. A closer look shows that the headlight clusters (see photo, above) have acquired the latest high-tech appearance, complete with a central xenon unit that we assume will be an option on all models.
The rear light cluster is unmistakably Volvo and emphasizes the bodywork "shoulder" in exactly the same way as do the units on S60s and S80s.
When opened, the trunk lid rotates perhaps 130°, almost as far as the glass in the back window, in order to give easy access to the relatively small but adequate trunk (15.5 cubic feet).
Inside the car, the most noticeable feature is the central instrument console, reminiscent of a small waterfall. It looks neat and very uncluttered, too.
In fact, that description applies to the entire dashboard.
The steering wheel is arguably just a little on the large side if a truly sporting impression is sought, but any smaller and it would obscure the instrument binnacle.
The demonstration car in question has not only been brought in from Europe especially — well in advance of model-availability here — but it bears all the hallmarks of its native country: All of the illuminated messages on the instrument panel were in Swedish… The blondes, in Sweden, might be delectable but their written language can have slightly less aesthetic appeal — It could have been telling me to "fire ejector seat" for all I knew!
The manual gearbox (i.e. "stick shift") was a pleasant surprise, but for me — personally — it promised to have its down-side. You see, for all that I've been driving regularly in the USA for five years it has almost always been in automatics and as I'm 100% British I'm used to changing gear with my left hand, so this was promising to be "fun!"  I sat for a few minutes, with the engine off, and simply practiced the gear changes. The gear lever positions felt very close so I was concerned that I might end up doing some crunching and grinding once we we rolling.
I needn't have worried; gear selection proved to be precise, and the clutch was easy and smooth.
So, off we went. And yes, I do mean off we went. This good looking but fairly inconspicuous car should not be under-rated. Volvo don't give their top cars a 'T' suffix for nothing. When you ask the S40 T5 to move you from Point A to Point B swiftly, it does exactly that… swiftly. And the handling, en route, is excellent.
And the braking is extremely good, too.
In terms of comfort, the S40 is certainly a match for all of the better small-to-medium-sized sedans and saloons that are currently available. Driver legroom was superb; I'm 6'2″ and I had to have the driver's seat only part of the way back, and that's unusual for me, even in bigger cars. To be fair, I could not have sat behind myself, if you see what I mean. When I had the driver's seat far enough back for me to drive there was not enough room for another person of my height to sit comfortably behind me — I tried it. But unless you are big, and you are sitting behind another equally big person, there is ample rear leg room for comfort.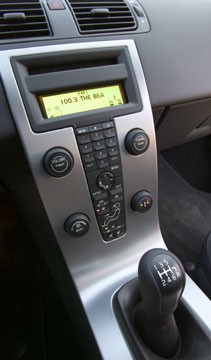 One of the biggest factors in car comfort is the suspension and given this particular model's sporting bias it can be no surprise that it gives a firm ride — firm but by no means uncomfortably so. What it did do was smooth out the potholes and bumps very nicely indeed, without rattling one's teeth. For most of our test driving, we had three adults in the car and all three were agreed about the comfort and ride quality. I've driven several new and much more expensive sedans/saloons that couldn't match it.
All new Volvos now come with WHIPS whiplash protection seats and in many ways these alone justify the decision to buy a car from this Scandinavian automaker. Click here to view a DSA article specifically about Volvo WHIPS seats.
So, is this the car for young drivers?
In terms of safety, I would have no reservations whatsoever about recommending the new S40 to friends, for their kids. Volvo's commitment to safety is blatant and has been around for several decades longer than in other automotive companies. This car is no exception.
Would I buy an S40 for a teenager of my own? Yes, in a heartbeat, but would it be the T5 version? Probably not — and that's for two reasons:
— Firstly, despite my own driver training proving to me in no uncertain terms that the gas pedal can, on occasion, be an essential safety control, I would find it impossible to justify letting any teenage driver loose with the power that an S40 T5 has, lurking under the hood. That would be my only reservation — I would buy a teenager an S40 any day, and in preference to anything else in its class… it just wouldn't be a T5, that's all.
— Secondly, if we had one of these cars in the family the kids wouldn't get near it anyway, because I'd be far too busy enjoying it myself! Unless — that is — I treat myself to an S60R, in the meanwhile!
The Volvo S40 T5 used for this review was kindly made available for 'Drive and Stay Alive' by Jim Culligan Volvo, at the Auto Place, Williamsville, Western New York.