Fundamentals
From country to country and even, sometimes, from county to county, there can be a big difference to the color scheme of police patrol cars. In all cases they are meant to be readily identifiable, but some police forces use remarkably bright coloration for conspicuity. This is intended not only to assist with officer safety at traffic stops and accident scenes, etc., but also to increase deterrence among drivers who might otherwise be breaking traffic laws if they failed to see a patrol vehicle.
In the UK, for example, where the rate of road crash fatalities is regularly the lowest (i.e. best) in the world [details here], virtually all patrol police cars are designed for maximum conspicuity and often park in very prominent locations so that all drivers can see them clearly.
It could be argued that speeding drivers simply slow down until they've passed the patrol car then speed up again, but even one prominent patrol car every 20-30 miles tends to have people saying "The police were out in strength today" (or blunter words to that effect!).
As in many other countries, UK forces often have the word 'police' printed backwards across the hood/bonnet so that it may be easily read through a rearview mirror.
The move to maximize the conspicuity of patrol cars, by British police forces, has largely taken place over the last 10-15 years. A typical color scheme prior to that is illustrated, above right. The predominantly red or orange stripe along the side of the cars, in earlier years, earned them the popular nickname of 'jam sandwiches' (though in American terminology that should perhaps be 'jelly sandwiches'.)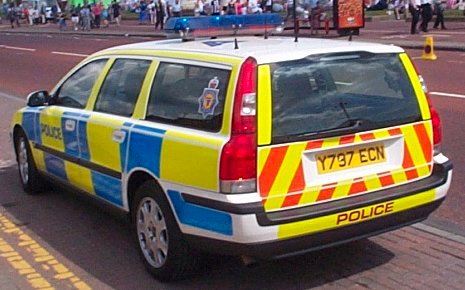 In some countries, one finds some remarkably drab color schemes, which makes patrol vehicles much harder to see from a distance. This may be great for catching more speeders but there are times when it significantly reduces safety for the officers concerned. It also reduces the deterrent effect that has been used with particular success by Australian police forces.
April 28, 2004
In an effort to improve highway safety, the Pennsylvania State Police is adding a strip of highly reflective yellow and black material to the rear of marked patrol vehicles, State Police Commissioner Jeffrey B. Miller announced today.
"The intent is to make our cars easier for motorists to see, particularly after dark," Col. Miller said.
Col. Miller said the idea for increasing the reflective markings grew out of a national study that examined ways to reduce the number of rear-end collisions involving police cars struck by other vehicles.
Richard O. Binker, director of the State Police Transportation Division, said the Department conducted its own testing with various types of reflective material and different color combinations.
"The decision to use yellow and black markings was made because of their visibility and recognition by the motoring public as a commonly used marking that is associated with barriers and other stationary objects," Binker said. According to Binker, State Police has about 1,000 marked patrol vehicles.
The Use of Unmarked Police Cars
Many countries &/or states now use unmarked patrol cars, often to combat speeding, but according to the American Automobile Association [AAA], Washington State Patrol have been using this method with great success, to combat aggressive drivers, since 1998.
Despite the fact that the members of the aggressive driving team make up less than 2 percent of the troopers on the road, they account for 17 percent of the aggressive-driver stops. In the twelve-month period ending July 2003, for example, the troopers pulled over 37,120 drivers statewide and issued 46,170 citations [i.e. tickets] to those drivers.
Troopers assigned to this program look for motorists committing multiple violations, from speeding to HOV ("High-Occupancy Vehicle") lane violations, to weaving in and out of traffic. And the program is having such good effect that a further twelve unmarked police cars were ordered for delivery before the end of 2003.